BEING A SOBLE LAW VIP MEMBER HAS ITS BENEFITS:
Free 1st Time Home Buyer's Purchase Agreement Review
Free 1st Time Home Seller's Purchase Agreement Review
For Veterans and First Responders Only- Review of Loan Closing Documents
Free Review of Asset or Estate Plan for New Parents or Grandparents
Free Notary Services
Free Debt Mediation Assessment
PLUS UNLIMITED ACCESS to All Discounts Provided by Our VIP BUSINESS PARTNERS
Free Access to Our Local Lawyer Network or Our LocalBusiness Lender Network
20% off document preparation fees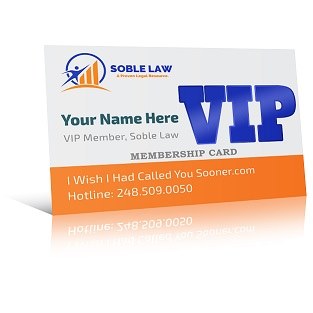 *Details of the V.I.P. program will be sent to you by email. You do not have to be a client to join Soble PLC's V.I.P. Program. Unless you authorize our office, your information is never shared with third party vendors. An attorney -client relationship is NOT created by becoming a V.I.P.
A 30 day waiting period applies before activation of V.I.P. status. V.I.P. discounts are exclusive and cannot be used or combined with any other discounts.
Don't wait until you need it!  Become a Soble Law VIP Today!