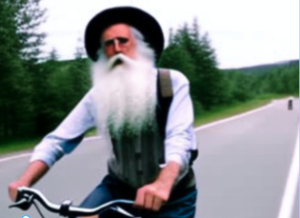 Thanks for listening to today's "Real Estate for Breakfast" podcast. I would now like to tell you a brief story about Gustav who never surrendered his goals to limitations set by others.
EACH YEAR, right around the time of the summer solstice, Sweden hosts the "Vätternrunda" which is famous for being the world's largest recreational bike race. It's a nearly 200 mile long road bike race that attracts over 30,000 riders from all over the world. Cyclists of every skill level come to Sweden to ride around Sweden's Lake Vätternboth. The Vatternrunda is treated like a Swedish national holiday and the event's slogan is "Whatever you do, do not stop pedaling."
Sweden, like most of Europe, is very bike friendly and loves bicycle races. Before the Vatternrunda was established in 1966, the Swedes held another notable race, a grueling five day, 1000 mile bike race which ran along the entire length of the country. According to Sports Illustrated, the race was a "test of strength and human endurance in which only super fit athletes could hope to survive." In 1953, Gustav Hakansson, was a 66 year old amateur cyclist, father of 10 and grandfather to 6. He wore an 18 inch long white beard that went down to the middle of his chest. He was eager to enter this race. But race officials required that cyclists first pass a medical exam to enter. Because of his age, Gustav was dismissed by race doctors, telling him that he'd be better off in a rocking chair than allowed into the race. Of the thousands of race applicants, only 50 young cyclists passed the strict physical.
Gustav was determined to ride the course nonetheless. On the day of the race, and only seconds after the official race began, Gustav rode up through the starting line on his lady's steel touring bicycle, bike basket and all. Sporting the number "zero" pinned to his shirt, he started after the official racers. For each of the five days of the race through the Swedish countryside, Gustav rode at a 'steady' pace. During the day, the competition was far ahead of Gustav, but once evening approached, the cyclists were required to rest a set number of hours before starting the next day's course. Gustav did not sleep more than an hour each night, after which he would ride off on the course in the dark, putting many miles between him and his young "competition."
Soon, race officials and the public started to take notice of Gustav, even though he was not a bona fide race participant. Race doctors and police were concerned that he would have a heart attack riding a course that went through Sweden's hilly and mountainous terrain. Gustav dismissed them. As word got out about Gustav's "lead", Swedes eagerly lined their town's streets to cheer the "Steel Grandpa" on his way.
On the last day of the race, having slept less than 10 hours over the five-day race, Gustav was over 100 miles ahead of the nearest official competitor when he crossed the final finish line! Gustav became a European biking hero and Swedish celebrity, known as "Stålfarfar", meaning Super or Steel Grandpa. As if Gustav's 'tortoise and the hair" story wasn't enough, the most remarkable thing you should know about Gustav's victory is that before the race, he rode over 600 miles from his hometown just to get to the starting line!
Remember, whatever you do… do not stop pedaling! Never surrendered his goals to limitations set by others.
If you liked what you heard, please share this with your friends and family! If you have any questions regarding how this podcast relates to real estate or contract law, definitely call my office at 888 789 1715.
Dedicated to your success. …
David Soble